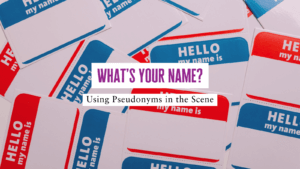 "I'd like to introduce you to Lady-Mistress Catwhiskers, Supreme Being of the Universe." "Hello there, I'm Frank." "Greetings, I am Lord Knockerlots and this is My property, slut zisc." These are examples of how people might introduce themselves in the Scene, examples of the wide variety of ways that kinksters identify. Names and titles have…
Thank you so much for a wonderful fun and informative class. I enjoyed how animated, creative, and engaged you were and appreciated that you offered [the class] a chance to ask questions and share experiences. 
I will be on the look out for more of your classes in the future!
Stormy
Thank you for a great class last night. I identify as a submissive and found the insights into the Dominants views very helpful. I feel I walked away with new tools to help with better communication and understanding in my relationships.
Ms Mode
Thank you for your class at IMsL, I thoroughly enjoyed it. I'd never been to a Humiliation/Degradation class before, so I really learned a lot. The most interesting part was learning about different levels/intensities of play in the spectrum, and all the options that were available.
Cricket
sign up for special announcements!