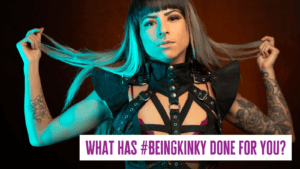 I have a love/hate relationship with Twitter, but one thing I do love about it is the kind of 'crowd-source' responses that can come through if a question is posed. One night I was thinking about all the amazing things being kinky (both personally and professionally) has done for me and wondered what other…
Thank you so much for a wonderful fun and informative class. I enjoyed how animated, creative, and engaged you were and appreciated that you offered [the class] a chance to ask questions and share experiences. 
I will be on the look out for more of your classes in the future!
Stormy
Thank you for a great class last night. I identify as a submissive and found the insights into the Dominants views very helpful. I feel I walked away with new tools to help with better communication and understanding in my relationships.
Ms Mode
Thank you for your class at IMsL, I thoroughly enjoyed it. I'd never been to a Humiliation/Degradation class before, so I really learned a lot. The most interesting part was learning about different levels/intensities of play in the spectrum, and all the options that were available.
Cricket
sign up for special announcements!