A few kinky shopping tips!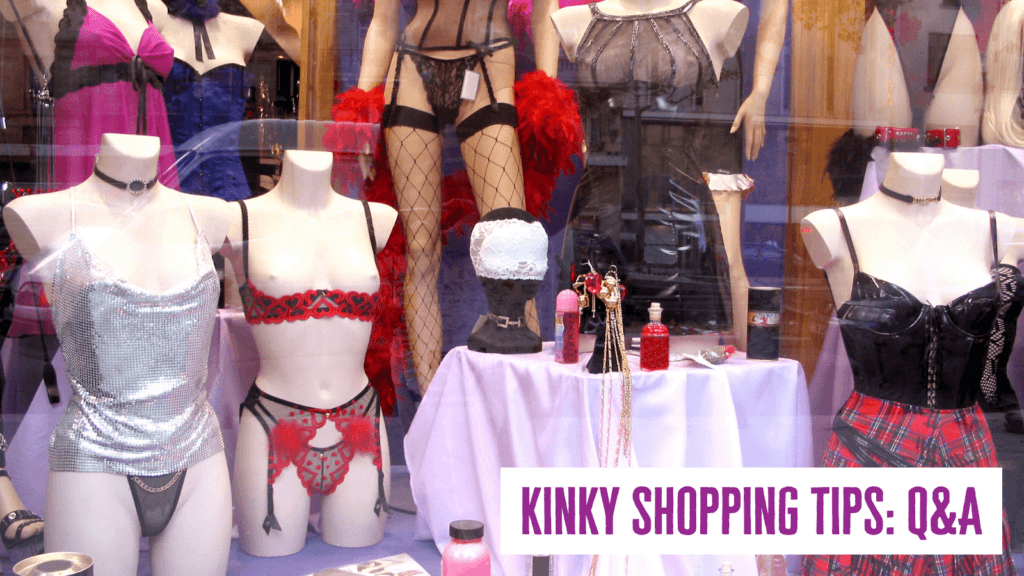 Q: I'm just starting to explore my kinks & fetishes, what should I purchase before I really know what I like?
A: Start with the 'vanilla' items that resemble kink items such as a wooden spoon for a paddle, scarves or neckties for bondage (be sure to keep safety scissors handy to cut them off in case of tightening!)
Q: I would like to try some more 'fetishy' clothes, but where do you shop for those things?
A:  It can be difficult to find things locally unless you live in a big city and even then, many brick & mortor stores have gone by way of the internet highway. A couple of good options are PurplePassion.com and Passional.com which have stores in NYC & Philadelphia, respectively. There are of course many more, please feel free to make suggestions in the comment section!)
Q: I'm really into a specific kind of corporal punishment (either as a Top or Bottom), should I invest in good quality toys of my own?
A: Absolutely. If there's one toy or activity that you know, without a doubt, gets you off….save up if you have to but do some research and purchase a well crafted, long lasting version of that favorite toy. This is true regardless of whether you're a Top or a Bottom. It is very appropriate, smart even, for a Bottom to have their own toys. That way you never have to hope that your favorite Top has your favorite toy, they can just use yours!
Q:I have a spare room that I'd like to turn into a dungeon, where do I start and how do I know what I need?
A: It depends on your interests, but some basic bondage furniture (spanking bench & padded kneeling post), a sturdy chair (with arms for a throne, without arms for OTK), and a roomy dog cage is a good start. Hang some hooks on the wall to keep your toys organized, and include a dresser for storage space and a counter top display area.
Q:I need a discrete, inexpensive way to keep and carry all of my kinky toys.

A: Look for a small, durable, fashionable suitcase with plenty of zippered pouches (outside & in) for an 'incognito' way to carry your toys around. Have a travel set of cleaning supplies in a plastic lined pouch so that you can take care of your items immediately after playing, and don't forget paper towels!