I remember the very first DomCon…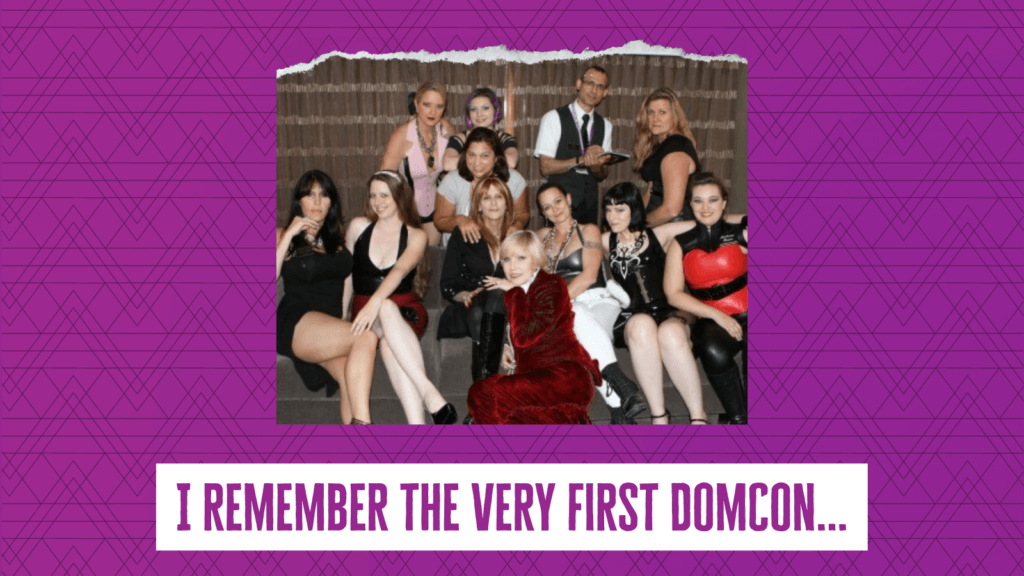 I remember the very first DomCon at the Beverly Garland hotel nestled in Hollywood. I don't remember how I first heard about DomCon but I do remember how excited I was there. I was 23 years old and had only recently discovered the BDSM world and in my usual way through myself into it and jumped in with both feet. DomCon seemed like it was going to be a paradise of dominant women and that's exactly what I found.
The first year the hotel had booked us in with both a high school marching band and a church choir. So it was an interesting mix, to say the least!
I remember being at the meet and greet with leather and latex clad dominants all kinds and styles and hearing the church choir singing hymns in the conference room across the way. I remember the freedom of walking around the hotel grounds with a submissive on my leash and the exhilaration of meeting other powerful women who were like me and yet so unlike me.
The camaraderie of dominant women FemDomme, ProDomme women especially has grown over these years that I have had the pleasure of being involved in this community and industry. DomCon is a HUGE part of that.
What Mistress Cyan created was and is the only space for professionally dominant women. And as the event has grown professional dominants of all stripes and lifestyle dominants too have joined the conference. It's a place where professionals can go and be proud to advertise their service s  and interests because lifestyle conferences are so often unwelcome even though many many many pros are lifestyle in their private lives as well.
Over the years I'm proud to have been involved in DomCon in many ways; as a presenter, as an attendee, as a vendor, and as a board member for a short time.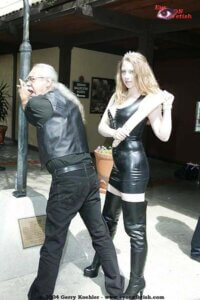 Every year that I'm able to make it I feel that same sense of exhilaration, in fact maybe more. Because every year I return I have the opportunity to reconnect with women that I've met and built friendships with. I have the opportunity to learn and connect with and from and with other dominants and new dominant in the industry. I feel at home at DomCon in a place where big personalities and quiet power each command their own type of respect.
We are a world of intense, intelligent, creative, and brilliant women and I'm proud to have been a ProDomme and to still have a place in this world even though I'm long retired. In my heart, mind, and actions I will be a dominant woman my entire life.
Since retiring six years ago I have found it very hard to walk away from the ProDomme community. Not that I ever really wanted to. I will be forever grateful for the level of interestingness and curiosity and utterly unique experiences I have had because of this career path. There is a special part of that that is directly because of the women that I know and adore.
Even if we don't get to see each other very often, even if we fall out of touch DomCon is that reconnection place, it as a place to come and spend time with with people that you care about people that are like you and people that share your interests as well as people that are utterly and completely from a different perspective and path. Through DomCon, Cyan gives us space for this utter collision of brilliance and creativity and perversion!
Now, with attacks on sexual freedom and against sex workers specifically I am redrawn to this world. The last few years I have been slowly working on spreading my Bitch Stigma message as well as taking my speaking skills into more mainstream space without betraying my history.
While I continue to work towards those goals, this is a time when solidarity is key.
So I am thrilled to be going back to DomCon this year to be standing in solidarity with my with my former colleagues who are still fighting this fight as active sex workers and I am absolutely thrilled to lend support and strength and applause to not only Mistress Cyan but also the entire DomCon Board who continues to produce this vital event year after year.