Expensive events, expensive gear…can you be kinky with a low (or non-existent!) budget?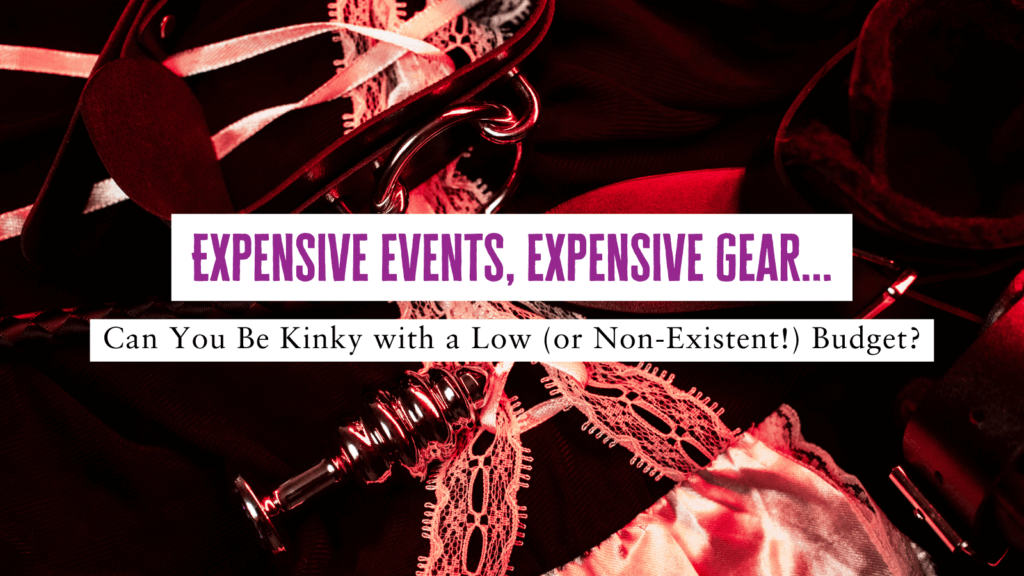 I've been both a professional and personal kinkster for over 10 years, and I'll admit to having a wardrobe/kinky toy fetish. Because of the professional need (and the personal enjoyment ;) I've acquired a huge collection of latex & leather clothing, kinky toys of all kinds including multiple floggers/whips/paddles & the like, plus a large dungeon's worth of high end kinky furniture. When I was a Pro-Domme full time and had a playspace of my very own, it was neat to have all these perverted items surrounding me and my submissives, it helped to set the tone of the session and certainly fed into the fantasy portion of our play.
Since I am a naturally theatrical person the variety of clothing & costumes were a ton of fun and finding unique and well-made toys became an entertaining adventure. But a funny thing happened when I moved into my largest dungeon (6,000 square feet, which I no longer inhabit). I had more space, more toys and more furniture…yet I found myself going back to simple activities & more psychological play. I've always been a psychological player, but when I discovered the BDSM world I became fascinated with all the accoutrements. Now, after more than 10 years playing with hundreds of people I appreciate a simpler approach to my D/s relationships and sensation exploration.
I teach a series of classes titled "The Lazy Tops Guide to…" and I came up with the ideas for "The Lazy Tops Guide to a Creative & Exciting Scene" out of a desire to share with my fellow kinksters that "s/he with the largest toybag" doesn't always win. It is possible to play with every toy available, and still not have a satisfying scene. If the connection isn't there, if the headspace isn't right then the activity loses a lot of its meaning.
So I suggest a new mindset for both dominants and submissives. Start with no toys. No bondage equipment. No fetishwear. Attempt to create the experience with your imagination and your attitude. Develop a kinky headspace that can be enjoyed whether you're in a hotel room with nothing overtly kinky available or in a huge dungeon with all the toys in the kinky world. The brain is our most useful sex organ. Engage it and everything else falls into place. I'll have some concrete suggestions for building a kinky mindset and toybag in a follow up article.