My first AASECT Experience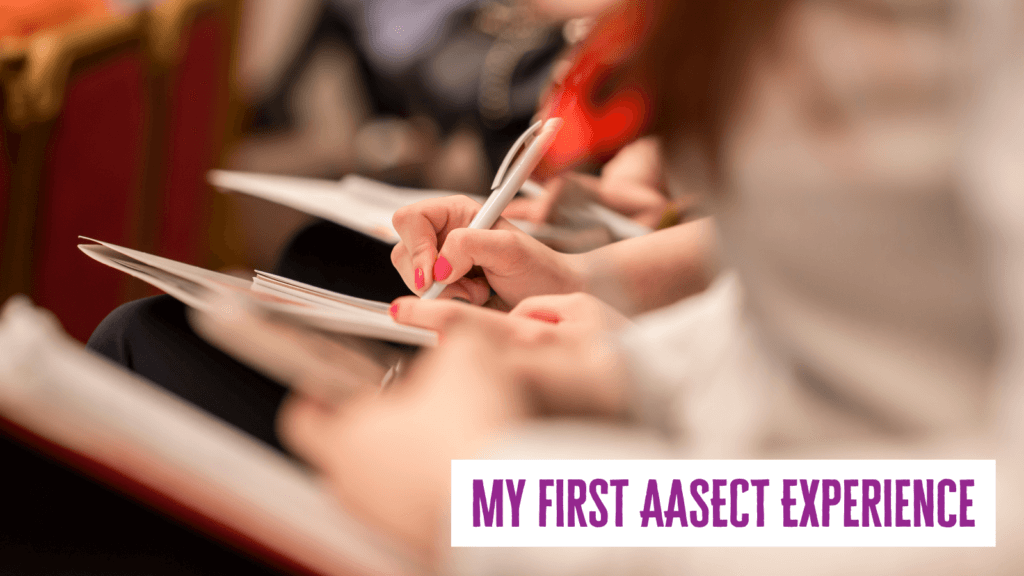 For those of you that don't know, AASECT (also known as American Association of Sexuality Educators, Counselors and Therapists) is a professional organization for sexuality professionals. It provides 'certification' in sex education as well as membership to individuals that are not yet certified (or not interested in certification) all with the purpose of learning, networking and furthering the mission of sex positivity in the world.
Last weekend I attending my first AASECT event and I have to admit, I was a bit intimidated. There is no 'certification' in BDSM and I've found that kink is still on the fringe even for traditional sexuality professionals. I had submitted a proposal (which was accepted!) to present about the Erotication brand, and branding in general. I've spent a great deal of time studying business and marketing and extrapolating to how it applies to sexuality based professionals of all sorts. Business tends to be a weak point in this industry and I want to help change that.
After arriving at the event, checking in to get my bag of swag and heading down to the opening reception I was still feeling a bit apprehensive. The people surrounding me had degrees in human sexuality, social work, psychology and other related fields. All I had was over 10 years of "in the trenches" experience and I was afraid they would judge me as 'not good enough'. Even big, bad-ass Domme's like me have moments of intense insecurities.
But what I found instead was a warm reception, acceptance of the knowledge I've gained in the last decade, and a fascination with the kink world. Suffice to say I was pleasantly surprised. I am proud of the non-traditional learning track I've been on my entire life and I'm confident that my self-education has provided me with plenty to offer, but not everyone appreciates this method of learning. For many, "paperwork" rules all, and by that I mean degree's and being legitimized by some institution of learning.
My main goal for attending this event, other than doing my presentation, was to network with therapists, researchers and other sexuality professionals that would be interested in doing videos for KinkAcademy.com and/or PassionateU.com and I'd consider it to be a very successful endeavor.
Throughout the weekend I met so many interested individuals and as the weekend went on I found that the people I had already met were happy (enthusiastic even!) to introduce me to others. I collected more than 40 business cards of people that are interested in working together. A victory for everyone as far as I'm concerned!
I'm already working on my proposal for next year "Marketing, Branding & Self Promotion: What's the difference & why you should care" and I'm hoping to get a 2 hour time slot rather than the 1 hour I had requested this year. I was surprised (although I suppose I shouldn't have been) that there weren't more business classes. All of the people that attended my class, and many in the other classes I attended expressed a frustration with their lack of business experience or guidance. So this is obviously a gap that needs to be filled.
It also inspired me to start putting together an e-course for sexuality professionals focusing on how to run the "business" side of their work. It is its own special skill and is important to keep these professionals IN business so they can continue to provide their knowledge to those who need it.
The whole AASECT event experience was inspiring, invigorating and way more open than I could have expected. I connected with new colleagues that will create collaborations in the future. I'm so glad I went and I'm so looking forward to next year!