Making Bank: A Budget Workbook for Erotic Entrepreneurs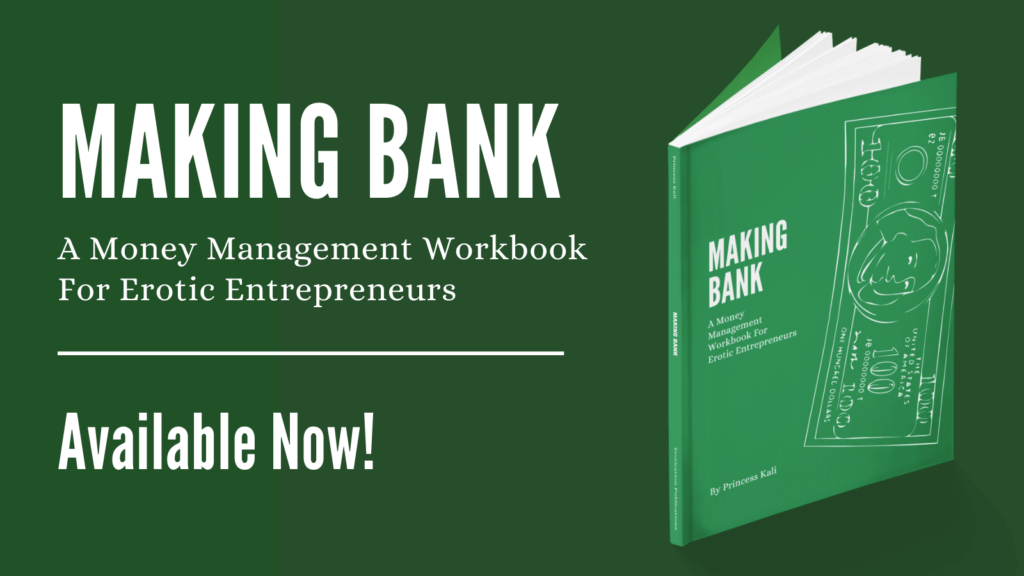 For many years, Princess Kali approached the money she made from her career in sex work with an "easy come, easy go" attitude. There was always enough, and there was always more on the way. But as her money goals grew beyond impulsive daily desires and monthly rent, she realized she needed to shift her approach if she wanted to be able to plan a future of financial stability. So she set to work transforming her financial life, fixing her attitude toward money and undoing past financial mistakes. But the most empowering part of the journey? Adapting a generic budget workbook to track her money in a way that worked for her brain.
Along the way, Kali learned two things: many of her colleagues in the sex industry had similar money hang-ups to hers, and like her, many of her colleagues responded well to analog tracking. Hearing this feedback from so many people over the years inspired her to create Making Bank: A Money Management Workbook for Erotic Entrepreneurs. 
This workbook is designed to help entrepreneurs in the sex industry step up their financial game by understanding what's really going on with their income and expenses, identifying money goals, and making plans to achieve them.
Combining monthly budget tracking layouts, space to write and reflect about financial goals, and information to help readers become more savvy about  saving and spending, Making Bank is a one-stop-spot for erotic entrepreneurs to upgrade their incomes and their money management skills.
Click here to purchase from Amazon