How (& Why) I Make My Financial Domination Intensive as Accessible as I Can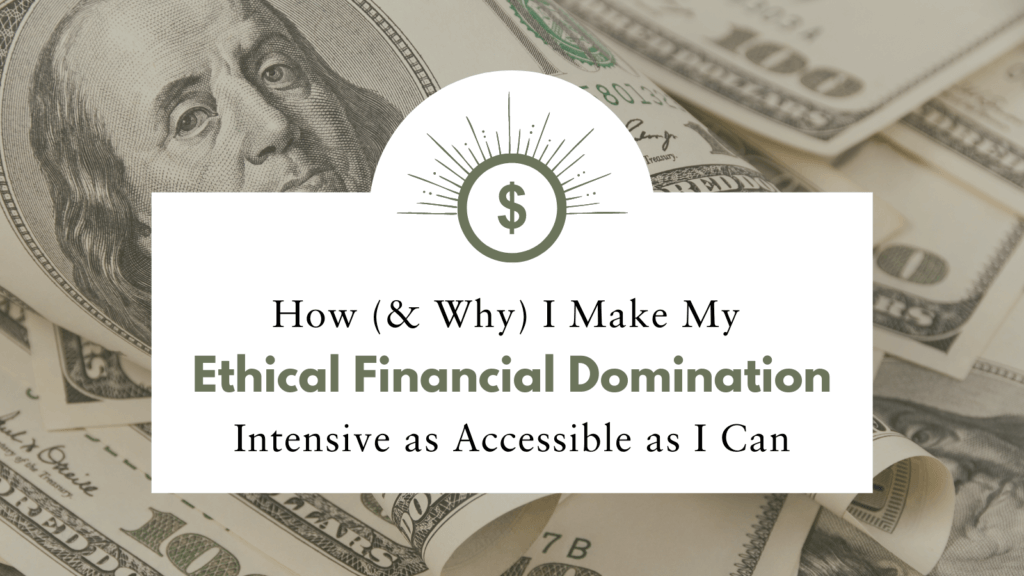 Two of my staunchest beliefs about the work I do often stand in complete contrast to one another:
First, that high quality educational resources should be accessible to everyone looking to earn a living as a sex worker.
This industry is incredibly polarized in terms of financial success. One one end of the spectrum, there are erotic professionals who consistently make astronomical amounts of money. On the other end, there are just as many who haven't found their financial footing (yet!) and struggle to pay the bills with the work they do. No matter where on that spectrum you fall, I firmly believe that everyone deserves access to the education they need to achieve their business and financial goals. After all, if we can't learn, how can we improve?
Second, that the content I create is valuable, and that I can (and should and must) treat it as such, confidently demanding what I know my work is worth.
There is a tendency in our society—especially among women, especially among marginalized communities—to undervalue ourselves. To give away our talents for far less than they're worth. To be so grateful to even have a seat at the table that we question whether we deserve to ask for anything more.

Well, guess what? We do.
When we devalue the work we do—the labor, time, and expertise that go into what we bring to the world—we shortchange ourselves, but we also shortchange our entire community by training our clients and colleagues to believe our work should be cheap, that it's worth less than it is.
So, I have made a commitment to myself never to devalue my work and always to charge what I'm worth, and I have committed to encouraging others to do the same. 
You can see how these two values—both of which are central pieces of my core philosophy—might butt heads, right?
This is especially true when it comes to one of my favorite offerings: The Ethical Financial Domination Virtual Intensive. I know with complete certainty that the quality of this training is worth every penny I charge for it (and, frankly, even more). After all, it's built on more than twenty years of professional and educational experience, countless hours (and days and weeks and months) of course design and refinement, and a deeply well-thought-out methodology that has been proven to work time and again. 
Besides, as the testimonials show, this course delivers! When attendees really internalize what I share and are diligent about implementing my strategies, the return on investment is undeniable.
"I can immediately turn your course content into money. It was worth every penny."

- Katherine Control
And yet, it's also incredibly important to me to make this world-class educational opportunity accessible for erotic professionals for whom that $1500 price tag is out of reach. I care deeply about the sex worker community, and I understand that our industry has a lot of inequities, so it's important to me to ensure that anyone—including marginalized folks—is able to participate in opportunities like this one.
With all that in mind…
5 Ways I Make the Event as Accessible as Possible While Honoring the Value I Know I Provide
1. Time to Plan Ahead
For many of us, it's not that a big expense is out of reach—it's just that we need some lead time to get the money together. That's why I make a point to announce upcoming intensives nearly three months in advance, giving interested attendees time to save up (or, in the spirit of financial domination, to raise contributions from their subs!).
2. Two-Step Payment Plan
A payment plan is another way I can give attendees time to plan. Once you're approved to attend—whether you apply at the earliest bird rate, the early bird rate, or the regular rate—just $350 will lock in your spot. Then, you have until fourteen days prior to the event to make the remaining payment, giving you even more time to get the funds together, and even allowing you to take advantage of the early bird discounts before you're ready to pay those discounted rates in full.
3. 50% Discount to Earliest Registrants
Speaking of discounted rates, I really want seats for these intensives to fill early, and I want them to fill with erotic entrepreneurs who may fall on the lower end of that financial success spectrum. That's why I offer an "earliest bird" rate of just $850 — 50% of the regular price — until a month before the event. It's my hope that, especially by combining this early signup incentive with the payment plan option, I can make the intensive accessible for a broader audience. I also offer an additional discount to Red Key Club members.
4. Full or Partial Scholarships for 25% of Attendees
The number of scholarships I can offer for any given event is dependent on how many registrants pay full cost, but I commit to awarding need-based full or partial scholarships for roughly 25% of attendees in order to open my (virtual) doors to more people.
Conversely, if you're paying full price for your registration, your dollars are going even further than you realize, because you're subsidizing the cost for someone else who might not otherwise be able to attend. (If you'd like to sponsor a scholarship by paying for an additional registration, please reach out to me to set that up!)
5. Low-Cost Introductory Alternative
If the two-day intensive is still out of reach, that doesn't mean you can't start building your skills as a financial dominatrix. I offer a two-hour introductory course with registration starting at just $69. This class will give you an excellent overview of ethical financial domination concepts, empowering you to build your business enough to make the next two-day intensive a possibility!
I hope that these efforts to make the Financial Domination Intensive accessible mean more erotic professionals will be able to benefit from this incredible training. Equally, I hope that by committing to honoring the value I provide and charging what I know my talents are worth, I can inspire all of my entrepreneurial colleagues—in and out of the sex industry—to do the same.
Are you interested in attending the next Ethical Financial Domination: Virtual Intensive? It's happening October 21-22, 2023 - Apply to register here!