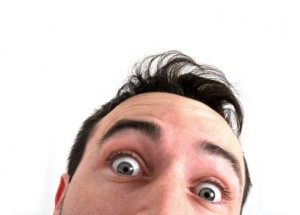 In the vanilla world, the acronym 'CBT' usually means 'computer based training' or 'cognitive behavioral therapy' which can cause quite the giggle fit when used in front of a kinkster. This is because, in the kinky world, CBT stands for 'cock and ball teasing' or 'cock and ball torture' depending on how "nice" you're being! There's also a related acronym CBB which means 'cock and ball bondage' which might be a part of CBT or it might not. Aren't acronyms fun?!
(As an aside, I've added links to videos on KinkAcademy.com that demonstrate some of these techniques.)
Ok, let's get down to the brass tacks of CBT, well, I don't recommend using brass tacks, but we'll get to that. There are many ways to enjoy it on both sides and to get pretty creative with it. For it to actually be CBT there does need to be a set of cock & balls involved. This area of a human body can be pretty sensitive although also more resilient than most people realize. But staying safe is key to keeping the 'package' intact! To learn more about the anatomy of the cock, which I won't be going into here, check this article out.
One of the first and safest ways to explore CBT is with your hands. A man can even play with some of these techniques by himself, but as with most things, it's more fun with a partner *wink*
Use your fingers to gently wrap around the balls at the base of the cock, so that you have the balls looking like a sack of gold with your fingers keeping it shut at the top. Gently (I said gently!) start to pull the balls away from the cock. You can also accomplish this with weights. Go slowly, it's always better to ease in and add more pressure than to go yanking sensitive bits around and lose the pleasure of it (or even worse, do damage). Keeping the fingers nice and snug at the top, with that gentle pulling, the skin over the balls will become tight and even more sensitive. Which means a little goes a long way. Gently tap the ball sack, use fingernails to gently drag across the sensitive skin. Any sort of gentle sensation play is good for this sensitive area.
The same techniques can be used on the shaft of the cock. Gentle scratching and tapping can be fun. The shaft of the cock can take quite a bit more than the balls, particularly when first exploring. Squeeze the cock until that point between pleasure and a little bit of pain has been reached. If you're into using your mouth, try gentle little nibbles. You are getting the point about being gentle, right?
Once you both have become comfortable being (gently) rough with those delightful cock and balls, then you can move onto more intense sensations!