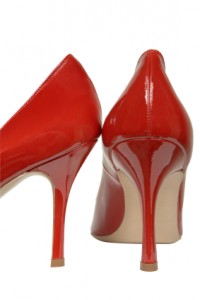 While riding shotgun with a friend through the Beacon Hill area I noticed a woman walking down the street taking long confident strides and I couldn't help but catch My breath. As she took each step the hem of Her long tailored pants came up to show a flash of a stiletto heel boot. I could feel Myself getting turned on by the tease of it and suddenly I realized,
I am officially a foot pervert.
It made Me stop and think about the progression of My foot fetish over the last few years. Before I "discovered" the world of BDSM I had never really thought much about My feet. I had always enjoyed long foot massages from my boyfriends and boy-toys and I remember My first slave in high school placing reverential kisses on My feet at the end of My weekly back rub, but I had never zeroed in on the pleasure that can come from extended foot play. When I moved to Boston and placed some pictures on the web looking for modeling jobs I received an invitation to a "foot worship party" in New York City. Though I had never heard the term before, I have considered Myself an Adventurer of Life so I bought a bus ticket and off I went.
What I found there honestly changed My life. I saw men of all ages crawling on the ground kissing, massaging, licking and being stepped on by the feet of all different kinds of Women. For the first hour or so I just walked around watching all the delicious action and absorbing this wonderful new activity that I had never considered before. I don't remember all the details of My first session but I know that it was his first worship session too and W/we were both delighted by the experience. I started going to New York to attend the foot parties on a monthly basis and learned everything I could from the guys that knelt at My feet; what they enjoyed about feet, what their first foot fetish memory was, the difficulty in finding a "vanilla" Woman who enjoys having her feet worshiped. As time went on I enjoyed My foot sessions more and more and found Myself especially interested in foot domination. This of course led to Me learning more about BDSM as a whole and becoming the Princess you know and adore today.
I have been the Hostess of Footnight New England for over two years now, and every month that I hold an event I am blown away by the feeling of joy I receive at seeing the looks on both the men and the women who attend for the first time. I have had men in their 50's come to Me with tears in the eyes saying that though they have had the fetish since they were 5 or 6, this is the first time they have ever actually worshiped feet. I have women who attend that come because it sounds interesting and possibly profitable and discover that they genuinely enjoy having a man worship and pamper Her feet.
Now, years later, My foot fetish is a regular part of My lifestyle. I have a few loyal foot slaves who pamper Me with everything from regular pedicures and foot massages to designer shoes and extensive worshiping. I find that a session doesn't feel complete to Me unless there has been some time spent with My slut sucking on My soles. I enjoy cultivating a strong scent by wearing My socks for a couple of days or slipping on My used slippers before forcing My foot-slut to take long deep inhalations of the pungent odor coming from between My toes. Quite simply My feet will never go unworshiped again!
This was originally posted on my FemDomme porn site PrincessKali.com in 2005