I remember attending the very first DomCon, 10 years ago in Hollywood. I was 23 and had been exploring Professional Domination for a little more than a year & as soon as I walked into the event I knew I had found the place for me! That hotel had a 'classic' California layout, with multiple buildings surrounding a courtyard which had a pool in the center. There are two particular moments that will forever remain in my memory
First, after the opening ceremonies we all went to a side room for the ProDomme Social. As I walked up, with my submissive on my leash, I suddenly heard a choir singing gospel. Across from the Dominatrix social was another room filled with a church choir. Oh yeah.
Second, the following day I was walking, again with my submissive on my leash, all dressed up in my fetish finest. Strutting past the pool to get to the vendor area I noticed a line of young men pressed up against the side of the pool with only their eyes peeking over the side. Noticing that there were a lot of (what looked like) high school students I went and asked about it at the front desk. Turns out there was a high school marching band also staying at the same hotel. Yep.
Now, flash forward 10 years to the 10th Anniversary DomCon LA. There are to many stories from the years in between to share, but every year I've attended (almost all of them!) I have had an absolute blast. From that inaugural year until now, it has been one of my favorite events.
I decided to drive in a night early so I could be there for the 'Industry Classes' on Wednesday and I'm so glad I did. It's always interesting & informative to hear about business practices from your peers (at least it is to me, but I'm a business geek J)
On Thursday night we enjoyed the Mistress Dinner, I opted for a mermaid princess of the sea look. It was pleasantly surprising how many ball gowns and evening wear was worn, not just the usual leather & latex (of which there was a LOT later in the weekend!). The dinner along with the meet & greet right after is a great chance to catch up with long-time friends and make new ones to bond with over the weekend.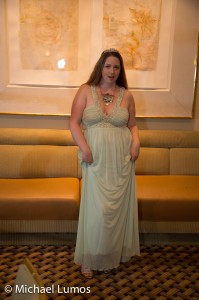 At one point at the Meet & Greet there was some technical difficulties for the Pony Show and the music wasn't starting. So, being the helpful self I am, I jumped up on stage to sing a little ditty that has always been popular… "I'm a Little Tea Pot" which ended up being a roaring success! For most of the weekend I was referred to as Mistress TeaPot (Steam Me Up & You'll Get Beat Up!).
Friday I didn't waste any time taking my submissive into the vendor area to do some serious shopping. I can do major credit-card damage in a very short time! We both enjoyed looking around at all the booths and finding sexy new fetish clothes for me. A fun time was had by all! That night was the play party at the Sanctuary Dungeon and even though I was really really going to go…..I didn't. Instead I spent a fabulous evening with a group of friends and went out to dinner to a little Ethiopian restaurant that stayed open just so we could take over the place & eat up all the goodness.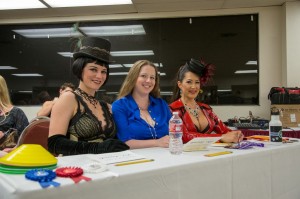 I did a bit more shopping on Saturday before being a Judge at the pet show along with two good friends Selina Minx & Veronique. It was fun to watch the human-pets perform and really sink into their animal selves. It was hard to pick the winners and next year we suggested that they have a few 'open' awards that the judges can make up for those that didn't win. ! It was rather frustrating that the DDI photo shoot was announced for 7pm but actually happened at 6:30pm, so a lot of us got there as it was finishing, but I suppose ya' win some and ya' lose some.
Saturday night I didn't make it over to Sanctuary, again! Once again I was side-tracked by hanging out with people that I get to see maybe once or twice a year. That's the kind of time when I wish there was two of me.
Sunday I started the day as a Judge for the cross-dressing pageant which was also hard to choose. Everyone there has so much fun and it's all so happy-hearted, they really are all winners. The Mistress Tea is always something I look forward to, and this year Mistress Absolute organized it (+ it happened to be her birthday!) and since she's British it was all very proper. Butlers in white gloves and everything! I even did a reprisal of Mistress TeaPot especially for Mistress Absolute (hee hee)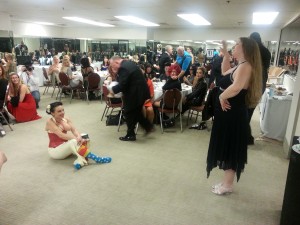 All in all I had a truly amazing time. DomCon is the only event for Professional Domination and it's a place where I feel  at home. Now it's just a few months until the 10 year Anniversary of DomCon Atlanta…